A brand new song has been released by a Sydney songwriter as a celebratory anthem for the vegan movement.
"Happy Veganniversary" is a short, high-energy burst of good cheer for vegans to use to commemorate the anniversary of the date they went vegan. It can also be sent to vegans by non-vegan friends as an acknowledgement and encouragement!
The song is by written Elizabeth Usher, a long-term vegan and Vegan Australia supporter (who proudly owns one of the original Vegan Australia T-shirts!), along with fellow Sydney vegan and seasoned performer Ralph Graham. This is the first official single release from MC Pony, who specialises in "novelty hip hop with a social conscience". You might have seen her performing over the years at events such as the Cruelty Free Festival, Sydney Vegan Expo, Living Green Festival and World Vegan Day. The tune features guest vocals from the talented Renee Jonas, and the video includes adorable footage of some of the lucky residents at Edgar's Mission.
Please watch the video and share it with any vegans you know, so they can celebrate their veganniversaries in style! If you don't know your own veganniversary, there's always World Vegan Day on 1 November every year as an option!
The song launched at the Newtown Lentil As Anything, a non-profit pay-as-you-feel restaurant with branches in Sydney and Melbourne. One happy member of the audience commented "It was a fantastic celebration for the vegan community, with great entertainment, delicious vegan food, and culminating with a fun and catchy song that can now be used around the world to mark anyone's veganniversary - which is a date well worth marking!"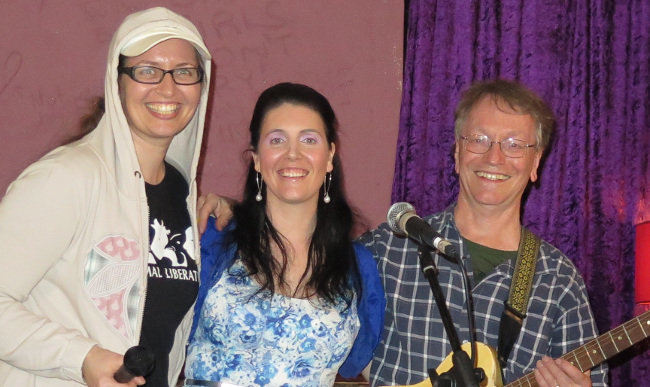 MC Pony, Renee Jonas and Ralph Graham at the launch
Buy Happy Veganniversary on iTunes and read more about MC Pony and her song on veganthused.com.
Images: Photo by Andrew Usher, all images courtesy of Veganthused!